OSET Electric Motorcycles
OSET electric motorcycles have a come a long way since the inception of its experimental unit back in 2004. Today, the company ships electric trials bikes around the world from its England headquarters. The cult following is immense, but reading some solid review of three of its main products doesn't hurt. If anything, it's worth checking whether OSET E-Motorcycles has continued to innovate or has sluggishly succumbed to its past laurels.
| | |
| --- | --- |
| | OSET E-Motorcycle |
So basically any OSET ebike features noise-free, fume-free and lightweight ride over all sorts of obstacles and terrains. The charging is done in 6 hours at most, with incremental charges of 2 hours for extended play. This is not your ordinary bike. OSET electric bikes were designed with small kids, even non-riders, in mind. The smallest bike, a 12.5-inch 24V OSET toy-machine is practical for toddlers as young as 2 years old, making little riders better at biking than at running.
The 12.5-inch OSET e-motorcycle comes in racing and eco starter bikes. The 2015 12.5-inch eco motorcycle features a host of new stuff, innovative spinoffs from its predecessor ridden by thousands of biker kids for over a decade. Its new 600w OSET motor allows much quicker response to speed adjustments. At 50 pounds, it is light and easy to maneuver - just perfect for little riders.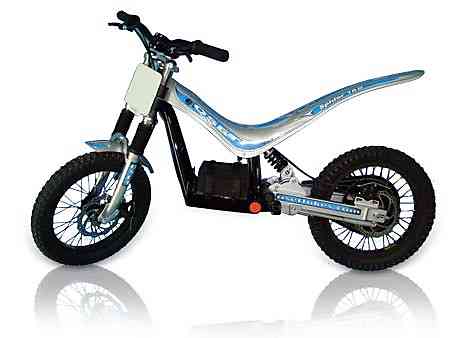 The primary difference between the two versions is the battery set with the racing coupled with 2 x 10ah AGM SLA, and the eco with 2 x 8ah. Racing also has a more versatile braking system - a 160mm disc at the front and a 140mm disc at the rear. Eco has much basic brakes - a front V-brake and rear band brake. What's at stake for an additional 100 bucks is a 12.5 racing OSET bike that your tot can take out off roads with so much reliability, versatility, efficiency and smoothness.
The starter OSET bikes may grow along with toddler riders, but they definitely need an upgrade once the kids start looking for a more fitting ride. Next in-line to the 12.5-inch OSET Electric Motorcycles are the 16-inch bike with basic 36V OSET controller adjustable for speed, power and response. It is powered by 3 x 10ah AGM SLA with fully adjustable suspension at the front. Not exactly a cooler machine than the starter 12.5, it's only made bigger and stronger for the bigger kids of 5 to 7 years.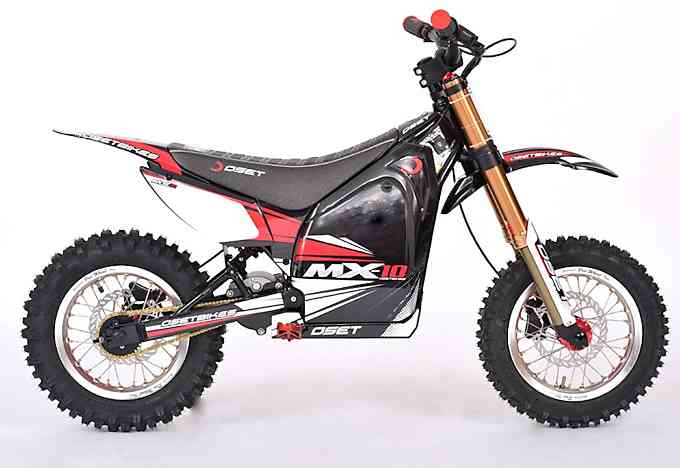 For much bigger kids, like teenagers and even lightweight adults, the 20-inch OSET bike is the go-to model. Again, it comes with a racing and an eco model to suit the biking lifestyle of young riders. OSET Electric Motorcycles are a great investment as acquisition cost and maintenance is very low. With proper care, a bike can outlast its former owner's biking appetite and is definitely a valuable hand-me-down for younger siblings. The bikes resell pretty high, too, if there should be a need for some cash in.
Overall, OSET bikes make kid's play that much more serious and more engaging. It takes simple rides to a whole new level. It's remarkable how such young riders ever get so agile on rocks, slopes, muddy or rugged terrain with a mere toy bike. Kids are hooked, and parents, too. While there's a range of thousand-dollar toys out there, an OSET Electric Motorcycle is an absolute value for money.