eBykeBuzz
(featuring reviews of electric bikes)
Electric bikes have been all the rage. As part of the category of light electric vehicles (LEVs), battery electric bicycles are designed for one person carrying light cargo. Clean, quiet and efficient, e-bikes, as they are also known, are great for short trips and errands of up to 10 miles.
| | |
| --- | --- |
| Electric Bike | |
An e-bike can come complete off the showroom floor, while other another bicycle (perhaps even your own) can be "electrified" with a power-assist unit. For less than $1000, you can enjoy the power, speed and performance of a new electric bike. For less than $500, you can even convert your own bicycle using a kit.
E-bikes are not limited to bicycles, though. The LEV class also contains electric dirt bikes, motor scooters and even motorcycles. E-bicycles may not be right for people with mobility or balance difficulties But, there are electric tricycles that can come to the rescue for those in need.
For vacationers who want to tour a large city, you just may want to jump into an electric pedicab, which is the same as a standard pedicab, but with electrical assist. And, its easier on your driver, too.
Futuristic e-Biking ...
If you like state-of-the-art bikes, then why not try an electrified recumbent bike or Betterbike as some call it or even an electrified velomobile (covered bike).
Some e-bikes are very space efficient as well. You can fold them up and put them in a car trunk or underneath a bus seat when needed. Put a folding electric bike in your boat or RV for that weekend getaway. When traveling across country, why not fold up your e-bike and check it in at the airport so you'll have it at your travel destination?
| | |
| --- | --- |
| | You'll have to wait for the future on this one (pictured) as this is a folding electric bike concept not available yet for purchase. |
Now, with the new nano lithium iron phosphate (LiFePO4) batteries finally making their way into the marketplace, consumers will have a choice in leading edge oomph for their electric bikes as well.
No matter your want or need, there is sure the be an -e-bike to suit your lifestyle and recreational ambitions. Remember, LEVs provide a healthy outdoor activity, get you where you need to go and are non-polluting. Get your hands on an electric bicycle today! Open up a new world tomorrow. And secure a better world in the future.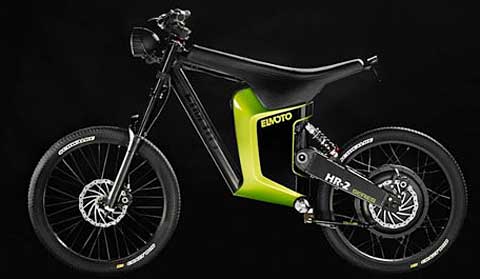 Elmoto
Wacky Fact:
In the United Kingdom, the government calls Electric Bikes'electrically Assisted Pedal Cycles' or (EAPCs).
Updated August 05, 2015