Picycles
Looking for a revolutionary way to cruise around town on an ebike? PiCycles are inline hybrids that combine human power with electricity to create an enjoyable riding experience that allows you to go faster, farther, and steeper. You can burn calories without breaking a sweat, as the design allows for the bike to be operated as a bicycle, motorcycle, or a seamless combination of the two.
| | |
| --- | --- |
| PiCycle | |
The weight of the bike is nearly perfectly centered, this allows for the most power to be delivered to the motor mounted in the front wheel hub. This set up allow for perfect handling due to the balance of the bike. Motors ranging from 1.3kW to a staggering 1.7kW give you plenty of power. You can adjust the power needed via display settings if you have a lighter person or child operating the bike.

Opposed to a traditional chain mechanism, PiCycles use a Patented Carbon Gate Belt Drive system, that is silent, efficient, and requires very little maintenence. Unlike chains, there is no risk of rusting or grease stained pant legs. The gears are self-contained in internal hubs, which restrict any debris getting into the drivetrain. You have the ability to change gears even when completely stopped, and the moment you put your foot down, the bike is ready to go. There no need to downshift or upshift to prepare for changing gears. PiCycles are ready whenever you are.

Picycles come with an integrated app available for any smartphone. The app displays a readout of efficiency, charging levels, speed, while also provide remote diagnostics. PiCycles can be charged basically anytime or anywhere. With a three hour charge time, the ebike plugs into a standard wall outlet. The Li-ion battery is engineered to ensure reliability and performance, and is now International Air Transport Association Certified, which allows them to be taken on commercial airplanes. Traveling with your bike has never been easier, and the battery lasts two to three years longer than other competitors.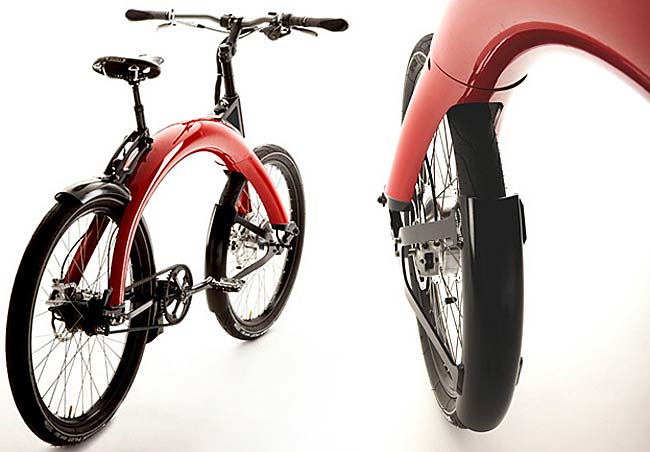 PiCycle saves money on gasoline, maintenance, parking fees and insurance costs. Since it is usually covered under a homeowner's policy, there is no need for costly vehicle insurance rates. There's no need to worry about finding the perfect parking spot, feeding a meter, or parking fines. Just dismantle and go. Also, PiCycles cost approximately 11 cents of grid electricity per charge. That's just about four miles to the penny. Traditional modes of transportation cost up to fifty times that amount, even with a fuel efficient model.

Perfectly designed to keep you looking ultra-sleek and sharp as you ride, the Picycle is a unique mix of style and functionality. From the arched design to the weather-proof tube that houses all the electronics, the PiCycle is detailed and makes no compromise for any of its components. With an optimized center of gravity this electric bike is guaranteed to be the best performing vehicle you have ever experienced. PiCycles are also designed to last well into the future, advancing along with technology, as most parts can easily be swapped for new designs.