Polaris eBikes
For those of you who are familiar with the long standing leader in snowmobile and side by side technology, you might be in for a shock with this article. Polaris, the world leader in motorized vehicles, is now manufacturing and selling a new line of eBikes that are taking both the motorcycling and bicycling communities by storm.
| | |
| --- | --- |
| Polaris eBike XL | |
Polaris' new eBikes are designed for those riders who want a little extra excitement in both their on-road and off-road commutes. Being touted as bicycles that are geared like a sports car, the new Polaris eBikes are set to change the industry's expectations for electric bikes.

When consumers think about electric bikes, they think slow performing, heavy bicycles that are not very attractive to look at. Polaris has smashed that notion with their new eBikes saying that they will be offering in a wide array of eye-popping colors and graphics designed to suit many rider's personal taste levels.

Are these eBikes just another pretty face designed to empty your wallet and leave you unimpressed? Not at all! In fact, these new bikes from Polaris and partner, EVantage, offer more technological advancements in every bike than you will find in any other mode of human powered transportation on the market today.

With computer processor-based Gear Speed Technology™ that revolutionizes the dynamics of power-assisted cycling with intuitive responsiveness to the controls and gears that are programmed to provide the appropriate torque or acceleration based on the terrain and riding style, you would be hard pressed to find anything else like it.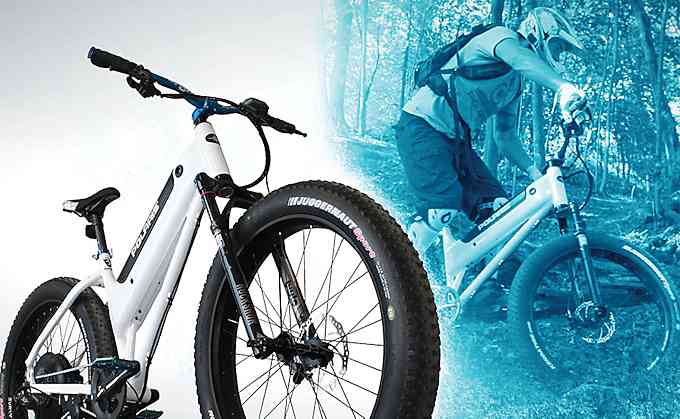 Each Polaris eBike is equipped with Perpetual Arc Regeneration™ which enables the rider to generate power to the battery while pedaling via four different methods:

On flat or downhill terrain to capture up to 100 watts of charging power.

Backpedaling brake assist, gradually slowing the bike down and capturing residual energy for regeneration.

Using the electronically controlled hydraulic disc brakes.

Pedaling above 21 or 29 mph, depending on the model.

The advanced Active Trail Technology™ delivers whisper-quiet power for acceleration up hills, and automatically adjusts back to Regeneration Mode on flat or downhill terrain. With speeds up to 28 miles per hour and a range of up to 50 miles per charge without activating the regeneration features, these new Polaris eBikes can take you everywhere you want to go and bring you back without breaking a sweat.