Prodeco E-bikes
Prodeco specializes in selling a variety of electric bikes. From big, small, fast and slower e-bikes, this company offers a huge variety. Here is a list of the top three e-bikes offered by this amazing company.
| | |
| --- | --- |
| Prodeco Outlaw | |

1. Titanio 29er 2013

The Titanio is one of the top electric bikes offered on the market. This e-bike has been referred to by many as being "brilliant". The Titanio is full sized yet it is very compact and light. This electric bike weighs only 31.8 pounds. This fully loaded e-bike can reach speeds up to 18 miles per hour and is equipped with exciting features such as 250 watt front-friction drive motor, SRAM XO 10 speed drive train, RockShox SID AIR PushLoc fork, heat shedding rotors, and Elixir XO hydraulic disc brakes.

This is definitely an electric bike made for people who love luxury and riding in style. The consumer reviews on this bike are spectacular. Almost every customer who has bought this bike has left positive feedback. The Titanio can be purchased for about $4,999.00.

2. Outlaw EX 2013

The Outlaw EX 2013 is a stylish yet powerful e-bike. This bike is often referred to as the "powerhouse" of the electric bikes. This bike can go to speeds up to 20 miles per hour on the streets. This is one of the fastest e-bikes out. It has awesome features such as Rear direct drive 48v 750W motor, 20 mph speed, leather saddles, Avid Elixir 5 Hydraulic Disc Brakes and rotors, Avid Elixir brake lever, SRAM XO Twist 8 speed shifter, and many other top of the line features. The Outlaw EX has amazing reviews from prior customers and can be found priced around $2,199.00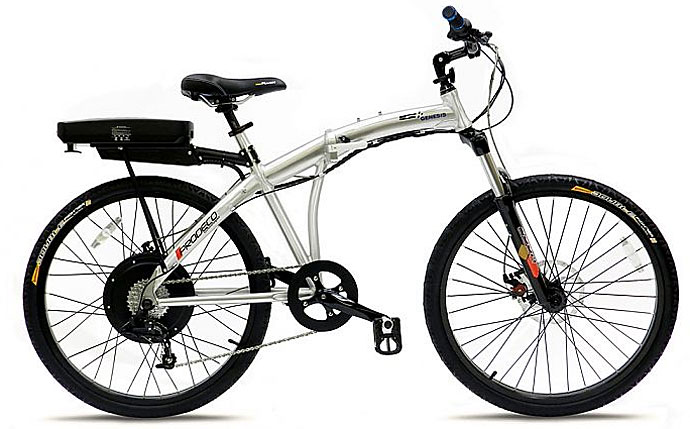 Genesis 500

3. Genesis 500 2013

The Genesis is meek, yet carries a lot of power. This e-bike offers the same features as the Outlaw bike and also reaches the same speeds of 20 miles per hour. The only difference is that this bike is made for riding on the streets and other flat surfaces. It was not made for mountain biking or riding on tough trails. This e-bike would be perfect for commuting on the street and using for transportation purposes as well as for fun. The Genesis offers fast speeds and amazing power at a very good price. This bike is for sale for about $1,299.00.

Conclusion

Electric bikes are very fun and convenient to own. These bikes can be used for fun and doing things such as off-roading, mountain biking, riding trails, and other fun activities. The Prodeco e-bikes are high quality and very well priced considering the features. Choose the bike you want according to the features it has and your needs. Also, always remember to ride safely and as David Letterman used to say, "Please, no wagering."