Cyclamatic eBikes
Cyclamatic is not your father's electric bike. Biking has long been an alternative to cars in order to get from one place to another. Bicycling is also a fun activity, usually starting in childhood and garnering the sense of freedom and independence. As adults, cycling becomes an actual method of transportation, and with the new line of electric bikes, can restore your childhood enjoyment of riding a bike.
| | |
| --- | --- |
| Cyclamatic Folding eBike | |

Electric bikes have a motor that help make pedaling smoother and less difficult to ride. They are designed like traditional bikes, though they tend to be heavier due to the battery operator motor. Most electric bikes have two modes: pedal assist and full throttle. Pedal assist engages the motor as you pedal, helping to make the ride easier. It conserves battery life by shutting off the engine when you stop pedaling. Full throttle mode operates the engine constantly, and the cyclist is not required to pedal at all. This mode is ideal for uphill climbs or long commutes.

Cyclamatic has been known for developing high quality electric bikes, perfect for inner city transportation. The latest model, the Power Plus Electric Mountain Bike has a lithium ion battery, a variety of operation modes, and a rechargeable battery set.

The best part of Cyclamatic Electric Bikes is that anyone who knows how to ride a bike can ride it. With a little practice of how to operate the distinct features of each model, you can be on your way to riding an electric bike the same way you rode when you were a child. There are three riding modes with the Power Plus model, and it only takes minutes to get acquainted with the bike and its functionality.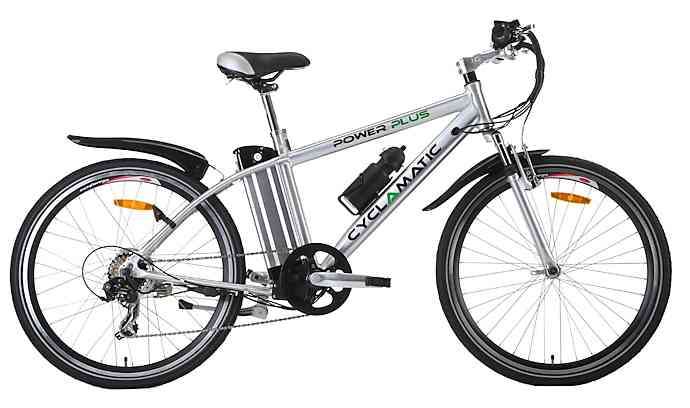 Cyclamatic Power Plus eBike

The Cyclamatic Bike is at the top of its class when it comes to value. The company offers a twelve month guarantee, and the variety of features make it well worth the money. This bike has 26 inch stainless steel rims, front and rear mudguards, bell reflectors, Servo anti-cling brakes, and a water bottle. The frame height is adjustable, so you can find a comfortable fit for you.

The lithium ion battery provides 30 miles of travel on a full charge, and is actually lighter than many bike batteries on the market. The Cyclamatic comes with an extra battery pack as well, so you'll always be charged and ready to ride. The power output of 24 volts and 10 amps is significantly better than many other batteries used for electric bikes.
T
he Power Plus has a quick release front wheel and seven speed quick change gears. The bike is legal for road use in many places, and can support riders up to 310 lbs. in full electric mode. This bike is perfect for individuals who want a long lasting electric bike that can help cut commuting time, while saving energy and fuel costs. With the seated battery and anti-cling brakes, the bike is safe for use even in rainy weather.