Volton Electric Bikes
Chicago-based Volton Bicycles is among those that are striving to make a green change in the world through eco-transportation. The company designs and supplies electric-powered bicycles and seeks to raise awareness of this affordable and fuel-free transportation technology.
| | |
| --- | --- |
| Volton Stow | |
Volton's e-bikes are designed to reduce carbon footprint and eliminate troubles encountered with traditional modes of transportation. Their designs are unique, low maintenance and made of quality components.
Currently, they have five lines of electric bikes, and here's a look at them:
Alation
The Alation line takes its name from the word itself which means "the state of being winged." Elements seen in world-class mountain bikes are applied to the Alation, including hydro-formed tubing and an oversized headset for strength and responsive handling; powerful disc braking power; and adjustable, responsive suspension that allows riders to tackle whatever the path throws at them.
Under the Alation line are a couple of models, and these are:
Batter-in-frame builds
Alation 250 - an easy-to-ride bike offering 250 watts of power for use in any setting - dirt, street, sport or recreation.
Alation 350 - offers an upgraded motor that can handle climbs and rougher terrain with better ease.
Alation 500 - an urban and light-trail capable bike that offers lots of power and torque.
Alation Mid Drive - features centered weight distribution allowing for better balance and increased electric drive efficiency resulting in a longer, more comfortable ride.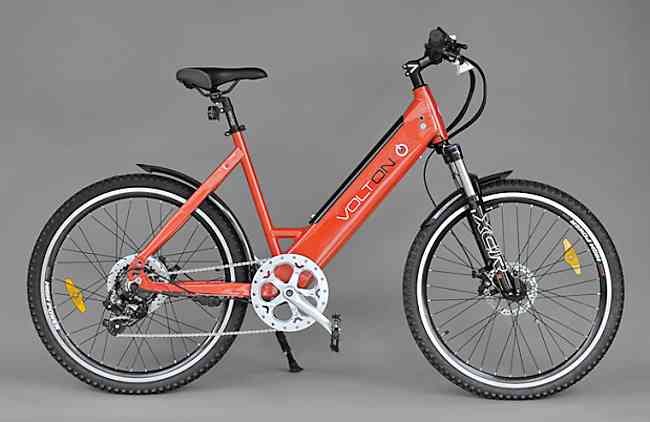 Step-through (ST) battery-in-frame builds
ST bikes are much more easier to mount as you only have to step through.
Alation ST 250 - great choice for those who love outdoor riding, but not so much climbing. It's also a better model for smaller riders.
Alation ST 500 - provides a much easier frame to mount, and although it bears similarities with the high-step model (Alation 500), it has several improvements that set it apart like an extended rear fender, improved headlight and rubberized battery cover.
Alation ST Mid Drive - the mid-mounted configuration makes climbs better and can reach higher top speeds despite having average power.
Boulevard
The bikes under this line have a classic style but with a new feel. With a relaxed geometry and an optimally mounted battery, these bikes provide an upright riding position for a comfortable boulevard cruise.
Boulevard - designed for comfortable cruising. The Boulevard comes in Volton's classic cruiser frame and the optimally mounted batter and controller helps keep weight centered for superior handling and upright riding.
Boulevard DLX - an upgraded classic that comes with disc brakes, a powerful 350-watt motor, upgraded suspension and a lithium-iron phosphate battery.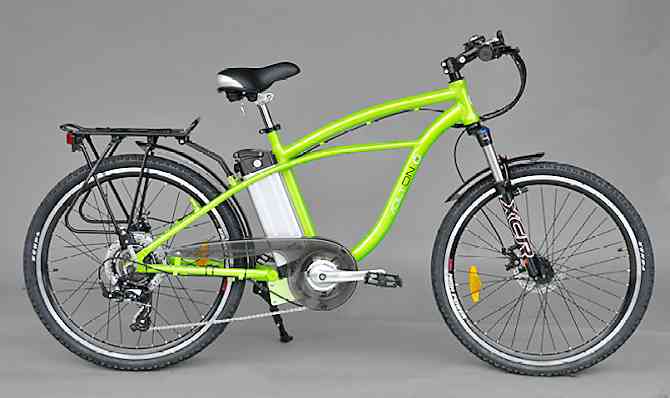 Ease
These are step-through versions of the Boulevard. Under this line are:
Ease - a step-through version of the Boulevard which means an easier time getting on and getting off.
Ease DLX - comes with a powerful 350-watt motor, front disc brake, adjustable suspension and a 36v10ah lithium polymer battery.
El Legs
These machines feature a hybrid-inspired design made with double-butted T6 tubing. All in all, these bikes are streamlined, lightweight and comfortable.
El Legs - one of the lightest full-sized electric bikes in the market. The double-butted, hydro-formed tubing reduced weight but also adds structure to the frame design. The bike is as light as it looks and is structurally sound for a well-handling, responsive smooth ride.
EL Legs 5 - a sporty, lightweight bike with a powerful 500-watt motor and balanced battery design. The bike offers twist throttle mode and five levels of pedal assist that extend its range.
Stow
This bike is a 20" folding commuter that also comes with a reinforced frame geometry. It is fun to ride, and as its name says, easy to stow.