Yukon Trail eBikes
Yukon Trail is one of the most popular electric bicycle brands in the world, and there are numerous reasons for that. They take a lot of time in creating a new model and taking it to perfection while also providing numerous accessories that make the whole trip a lot more interesting.
| | |
| --- | --- |
| | Yukon Trail eBike with Basket |
In addition to that, most of their electric bikes have a good price range, which makes them affordable to just about anyone looking for a reliable bike on a budget. Yukon Trail brings numerous electric bike models, such as the Xplorer, Out Back, Navigator and Dirt Hawk series. All of these have been specifically created to cater to the needs of the e-bike enthusiast.

Yukon Trail bikes can be used in three different modes. First of all, they have the same functionality as a regular bike, so they are very well suited for all kinds of tasks that allow you to exercise. On the other hand, these bikes also come with a pedal assist mode in which you can clearly get a lot of practice by pedaling yourself, yet still getting a little assist from the bike's battery.

The Yukon Trail ebikes also bring a very important full throttle mode where you can get almost anywhere you want without pedaling. This is surely a great achievement for any electric bike, and those Yukon Trail manage to get you from one place to another in record times without any hassle.

All Yukon ebikes are powered by a 250W motor with 24/36V brushless allow. The batteries on these bikes differ, but most of the time they are either LiFePo4 or Lead Acid with 24/36V.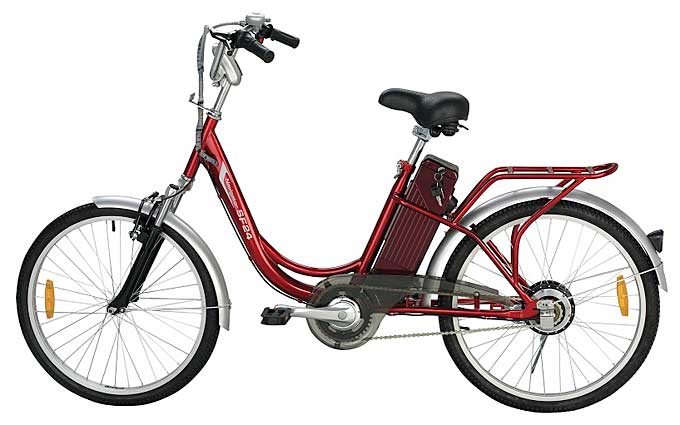 When it comes to the display, these bikes are very good at showing you all the necessary data you need on the road. With up to 3 different modes, here you can view things like battery charge, how much you travelled and a lot more. Cheaper models will only indicate battery life, and this might be a problem for some users. Depending on the type of terrain you are using the bike on, you can get up to 28-30 miles with a single battery charge. While this might not be a lot for professional riders that tend to use their bike a few times a day, it's more than enough for normal use.

The brakes, tires and rims are quite standard, but they do include some nice and unique factors such as interesting tire reflectors and double walled rims. The handlebars are made out of steel which provide added control, durability and protection, which is very important to say the least.

Bike weight varies from model to model, but a good estimate is around 60 lbs. Dimensions are also variable, as these bikes were made to cater with the needs of both men and women alike. We have dimensions ranging from 55" x 11" x 35" to 66" x 11" x 33" and others.

When it comes to colors, we really have to say that there are lots of variations, from red to blue or black. People always want to customize their experience, so being able to choose from a wide range of colors is surely beneficial.
There are numerous types of accessories already available, but if you don't want branded accessories, you'll be glad to hear that you can easily use those from your older bike and they'll work just as well. From powerful lights, locks, chains, baskets, pumps, racks, fenders, mirrors, seats and others, you can easily customize your bike and turn it into the bike of your dreams.

In conclusion, Yukon Trail is a great brand that creates amazing ebikes which not only can be used by bike enthusiasts but also by those that want a little exercise and aren't satisfied by the normal brands. Yukon Trail bicycles are a pleasure to ride and owning one of them can provide you with quite an amazing adventure.