Lopifit treadmill bike with electrical assist
If you are looking for a greener alternative to cars or other forms of fuel-powered transportation, you should opt to use a bike. But because foot power can be taxing for some people, a better solution would be to use an e-bike. This way, you have an option to pedal or not at certain intervals.
| | |
| --- | --- |
| Lopifit Treadmill e-Bike | |
However, if you want a mode of transportation that promotes physical activity better than a bike (electric or otherwise) can, you should go for a Lopifit treadmill bike with electric assist. From the name itself, you can pretty much guess what must be done to power up the bike. Unlike a regular bike, it doesn't have a pedal or a body, but a platform complete with treadmill.

As you push the treadmill backwards with your feet as you walk on top, a sensor registers the movement and then sends a signal to an electronic device that will activate the motor. The motor will then support you, so you can continue walking at a regular pace yet propel the bike at a faster speed.

What makes the Lopifit treadmill bike with electrical assist awesome?

It has the same fat-burning benefits of a regular treadmill, but lets you exercise outdoors or even en route to work. Based on a study, men burn 124 calories running roughly a mile on a treadmill, and 88 while walking. Women, on the other hand, burn 105 and 74, respectively.

It allows you to stay physically active while traveling at the same time. You can practically exercise at any time of the day. If you drive out often, you get to exercise just as often. You are basically killing two birds with one stone when you ride this treadmill bike.

It features a rugged design and all terrain tires that let you stroll down rough roads or run through evergreen forests. If you want to explore roads less travelled, you can do so using the Lopifit treadmill bike with electrical assist.

It lets you jog or take a walk without getting your shoes dirty or muddied. Because of its hard wearing belt that offers grip, you don't need to worry about slipping or falling off the treadmill.

It has a variable resistance feature that caters to people of all ages that are fit and balanced enough to ride Lopifit treadmill bike with electrical assist. But even if you are not that active, you can start with the treadmill bike.

It comes with a brake that immediately shuts off the motor and a freewheel function that you can activate when going downhill. It has safety features that you would not normally find on a regular bike.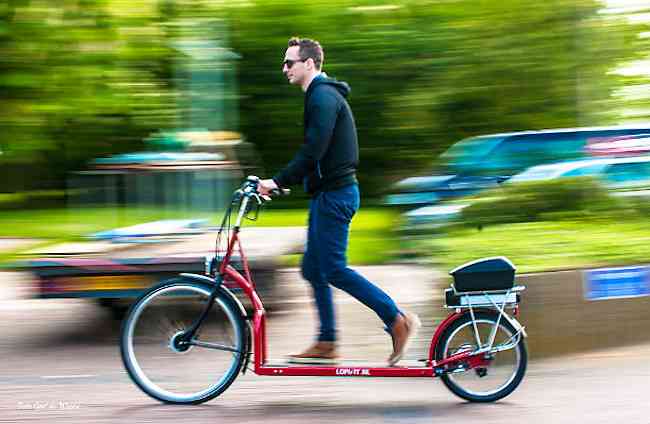 The treadmill bike is made of high-quality steel frame, and comes with a display that shows you the status of a battery. It can run at a maximum speed range of 55 km. You can vary the speed based on how fast you walk or run.
Its transmission is composed of rear wheel with 3-gear switching hub.
Its front wheel measures 28 inches, while the rear is 20 inches. It is available in five different colors and can be fitted with your choice of bling to make it more personalized.

When using the Lopifit treadmill bike with electrical assist, it is still highly recommended to use protective gear, such as a helmet, knee pads, face mask and gloves.