Easy Motion Electric Bikes
For as long as people have had the desire to get from Point A to Point B, there has been a need for vehicles that will help them get there. One form of transport that has been consistently popular over the years is the bicycle. For kids, learning to ride on two wheels means suddenly opening up the world that exists beyond the cozy confines of their home street.
| | |
| --- | --- |
| | Easy Motion Electric Bike |
For adults, the bicycle represents an economical way to get about, whilst also providing a great way to stay in shape. The problem for many is having the strength to get where they really want to go on 2 wheels, but Easy Motion may have solved that problem with their incredible electric bikes.

Rather than relying solely on the power that their feet can deliver to the pedals, Easy Motion bikes come with a powerful little motor that gives a boost during those moments when it feels as though the legs and feet simply aren't enough.

You may be imagining some huge motor strapped onto the bike, making for a less than aesthetically pleasing look, but the beauty of Easy Motion bikes is that the motor is built into the frame in a way that makes it invisible to the naked eye. You may not be able to see it, but you will feel the power it delivers when you need that added boost.

What makes the Easy Motion eBikes so great is that they come in a variety of sizes, shapes, and styles, which means there is a model for every member of the family. As great as it would be for everyone to own one, they are also perfect for the family that has one or two member show struggle to keep up with the rest when the family is out cycling. Now, everyone can stay together and enjoy the ride without having to constantly look back over their shoulders.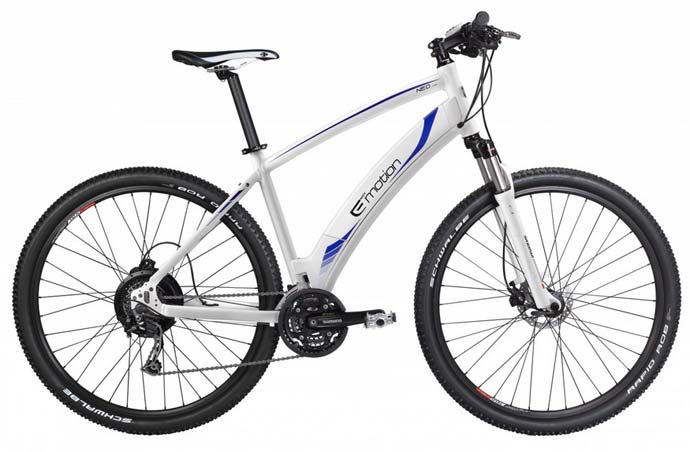 Easy Motion Neo eBike

The different eBike models give you the opportunity to tackle a number of different terrains. There are electric bikes that are perfect for use in the city, as well as some that will help you hit the hills on some of the more challenging trails you love to ride.

To make things even better, certain models allow you to control the amount of help that you get from the motor. You may not need any power at all, with your legs and feet able to handle flat roads. You can also opt for Power on Demand (POD), which comes with a few different settings to get exactly what you need from the attached motor.

What may come as a surprise to many is that the Easy Motion electric bikes are incredibly lightweight, making them easy to transport or carry on and off public transit if you are heading into the city.

Simply put, an Easy Motion electric bike delivers an incredible cycling experience and many more benefits that the ones we mentioned here. If you live to cycle, but don't feel you have the power you need to do so, you really need to go for an Easy Motion.


Updated April 25, 2014